Victoria visitors, meet Zed
Zed Victoria
Looking for the best and most unique place to stay in Victoria? Good news—you've found it!
For the fun-loving Victoria visiter, Hotel Zed Victoria is packed to the brim with things to do—ping pong, free bike rentals, a year-round pool open 9:00 am to 10:00 pm (including the one and only Zedinator waterslide) and more!
When you're not out visiting the Parliament Buildings, browsing through the many locally-owned shops in town or walking by the ocean, you can unwind at Hotel Zed with a round of ping pong, a soak in the hot tub or a board game of your choice (we take no responsibility for broken friendships).
With complimentary bike and longboard rentals, free parking, pet-friendly rooms and tons of fun and games, Hotel Zed is the perfect retro crash pad after a day in Victoria you'll never forget.
Photo Gallery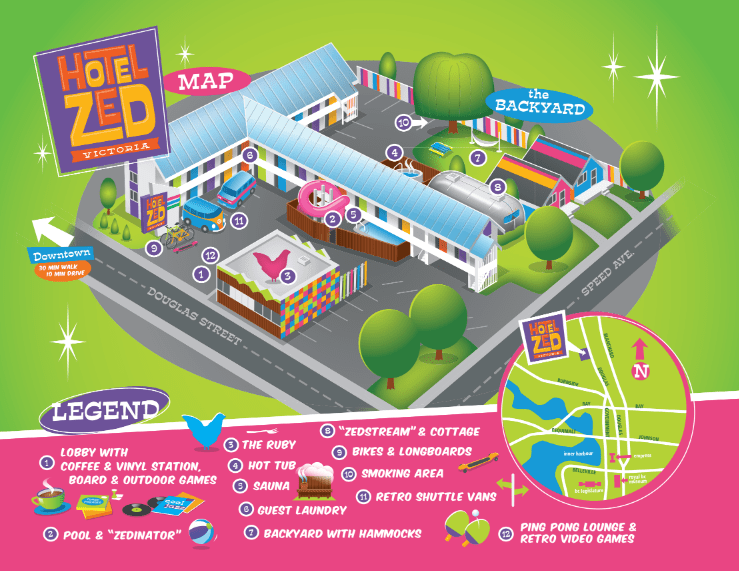 Where the heck is Hotel Zed Victoria?
Hotel Zed Victoria is centrally located between Uptown Shopping Centre and the downtown core, which is just a five minute drive away. The hotel is also right on the Galloping Goose trail, a renowned bike trail that will take you almost anywhere you want to go in the Greater Victoria area. Not bringing your bike? No worries—we'll loan you one for free!
Crash in these pads
Hotel Zed Victoria has some of the weirdest and most wonderful rooms in town. No matter which one you choose, you're in for more than a good night's sleep—our pads are experiences in and of themselves.
All the comforts of home, if your home was weird.
We've all been there. You check into a hotel, get settled in your room, and come to a horrific conclusion: there's nothing to do here! Hotel Zed amenities turn your stay into play so you'll never be bored during your trip.
Kelowna
Tofino
Victoria
Pet-friendly rooms
Looking for a pet-friendly hotel in Victoria, Kelowna or Tofino? We might just be the most pet-friendly hotel you'll ever find. Seriously. Dogs, cats and other furry or feathered friends are all welcome, with no limit on how many you can bring with you. Plus, we donate $1 from every pet fee to the BC Humane Society!
Proudly Rainbow Registered
We're Rainbow Registered!
All of our Hotel Zed and ROAR properties are proud to be Rainbow Registered.
Pride is so much more than a flag at Hotel Zed…although we have those, too. We are the first hospitality chain to be fully Rainbow Registered across all locations, and we hope to inspire others to follow suit.
This national accreditation is granted by Canada's LGBT+ Chamber of Commerce (CGLCC) to businesses and organizations who meet a stringent set of standards to ensure 2SLGBTQIA+ folks feel welcome, safe and accepted.
Book your stay
Ready to make Hotel Zed your new favourite destination? Fine choice! Check availability and secure your spot in a one-of-a-kind Zed pad today.