Kelowna visitors, meet Zed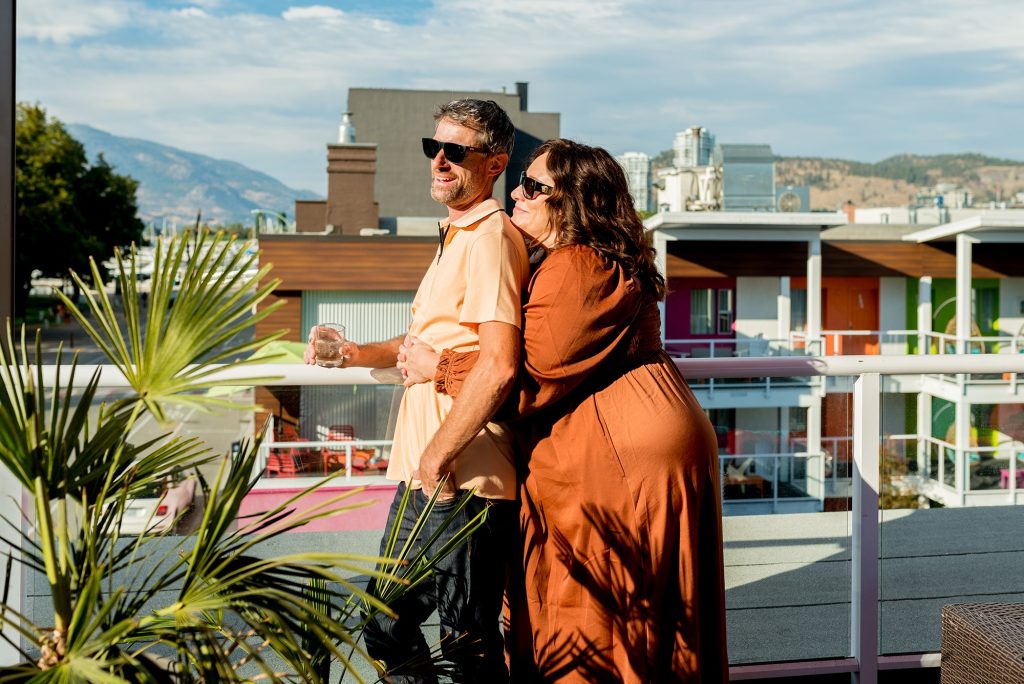 Zed Kelowna
With all kinds of funky features and convenient offerings, Hotel Zed Kelowna is likely the most unique place to stay in the Okanagan—and it's right smack in the middle of downtown Kelowna!
The place to be for Kelowna vacationers who want to stay in an ideal downtown location and enjoy the Okanagan lifestyle. With a rooftop patio and BBQ overlooking the lake, seasonal pool (open 9:00 am to 10:00 pm) and free bike (including tandem bikes) and roller skate rentals, Hotel Zed Kelowna has everything you need to take your Kelowna vacation to the next level.
When you're not out on the lake, up at the ski hill or trying to figure out how the heck that bridge actually floats, you can unwind at Hotel Zed Kelowna with a round of ping pong, a soak in the hot tub or some sun time on the rooftop patio (season dependent, of course).
With free bike and roller skate rentals, free parking, rooftop patios and tons of fun and games, Hotel Zed is everything you could ask for during your trip to Kelowna!
Photo Gallery
Where the heck is Hotel Zed Kelowna?
Hotel Zed Kelowna is located in the heart of downtown Kelowna, right across from City Park. We are walking distance from everything in the downtown area and, more importantly, steps away from Okanagan Lake! Taking a trip up to Big White Ski Resort? We're about an hour drive away. Wine touring? Hotel Zed is walking distance from many wine tour pickup locations, and a 15-25 minute drive away from various winery hotspots.
Crash in these pads
Hotel Zed Kelowna has some of the weirdest and most wonderful rooms in town. No matter which one you choose, you're in for more than a good night's sleep—our pads are experiences in and of themselves.
All the comforts of home, if your home was weird.
We've all been there. You check into a hotel, get settled in your room, and come to a horrific conclusion: there's nothing to do here! Hotel Zed amenities turn your stay into play so you'll never be bored during your trip.
Kelowna
Tofino
Victoria
Retro Spaces for Work and Play
We take our retro aesthetic beyond the bright colours and funky fonts—it's a whole vibe. Our lobbies are retro-chic sanctuaries, with lots of nooks and hideouts so you can set up your laptop or just hang out. Our guest rooms have legit rotary phones, retro alarm clocks, upcycled furniture and more! Every Hotel Zed is curated with so much detail you'll feel like you've travelled back in time (no DeLorean necessary).
Proudly Rainbow Registered
We're Rainbow Registered!
All of our Hotel Zed and ROAR properties are proud to be Rainbow Registered.
Pride is so much more than a flag at Hotel Zed…although we have those, too. We are the first hospitality chain to be fully Rainbow Registered across all locations, and we hope to inspire others to follow suit.
This national accreditation is granted by Canada's LGBT+ Chamber of Commerce (CGLCC) to businesses and organizations who meet a stringent set of standards to ensure 2SLGBTQIA+ folks feel welcome, safe and accepted.
Book Your Stay
Ready to make Hotel Zed your new favourite destination? Fine choice! Check availability and secure your spot in a one-of-a-kind Zed pad today.